We build plants but internally, across our solar value chain, from development to operations to sales, we're also learning and building on what we know in solar energy. And by partnering more closely with our vendors, landowners, investors and communities, we've been able to better capture the common needs that became our requirements for our solar power plants that in turn, have helped our customers reach their goals faster with better economies of scale. Our solar power plants are designed to be catalysts to deliver reliable, clean, and affordable solutions for communities around the world.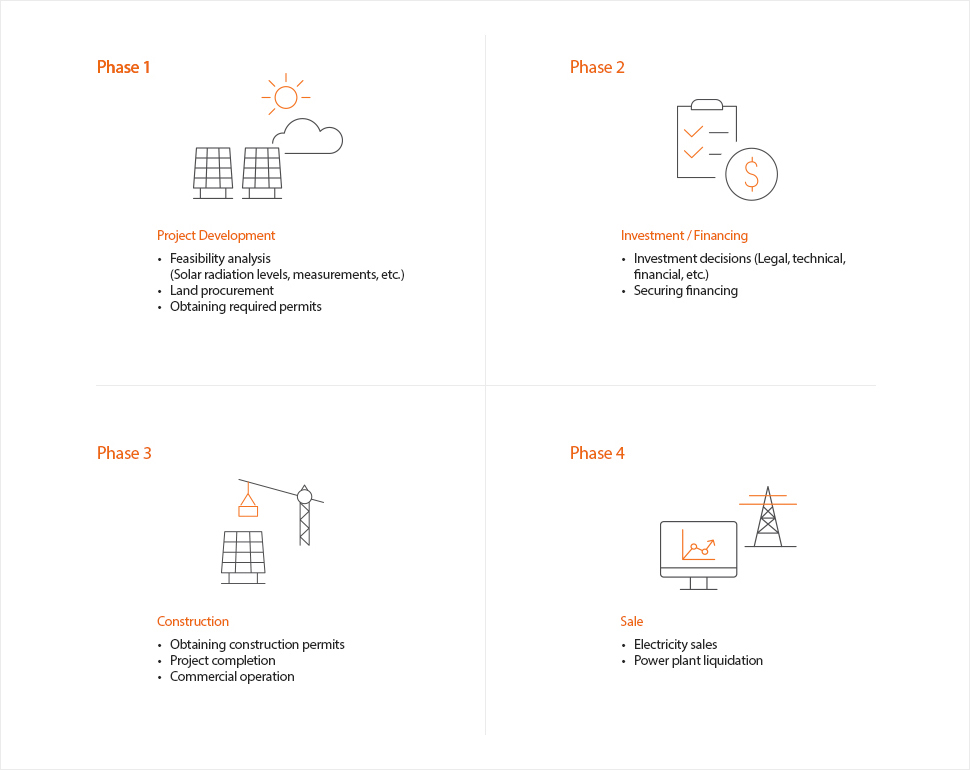 Phase 1

Project Development

Feasibility analysis (Solar radiation levels, measurements, etc.)
Land procurement
Obtaining required permits

Phase 2

Investment / Financing

Investment decisions (Legal, technical, financial, etc.)
Securing financing

Phase 3

Construction

Obtaining construction permits
Project completion
Commercial operation

Phase 4

Sale

Electricity sales
Power plant liquidation


is expanding its global footprint to meet the growing needs of our customers around the world. Bringing deep field experience to every project, we will create another success story moving forward.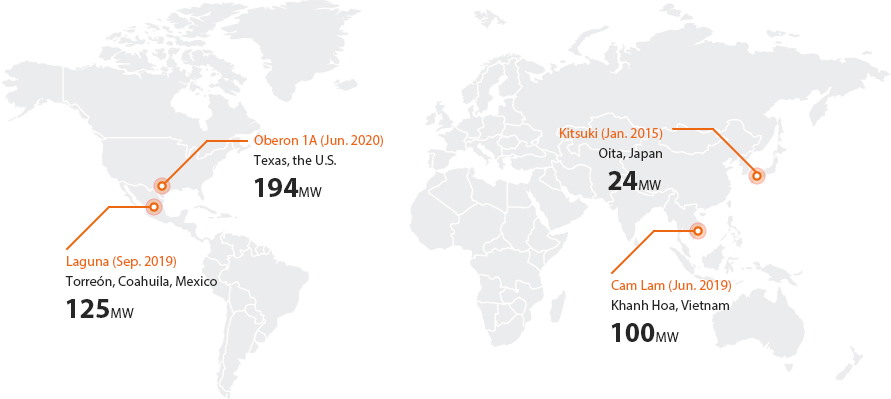 Laguna (Sep. 2019)

Torreon, Coahuila, Mexico
125MW

Oberon 1A (Jun. 2020)

Texas, the U.S.
194MW

Kitsuki (Jan. 2015)

Oita, Japan
24MW

Cam Lam (Jun. 2019)

Khanh Hoa, Vietnam
100MW


Solar energy is a clean resource for generating low-carbon electricity. Building on our long history in the solar power industry, we are now providing high-quality energy to homes around the world.

U.S.
In the U.S., the world??s largest solar energy retail market, we are emerging as an industry leader by securing and expanding business opportunities. In December 2018, we completed the 236MW Midway solar power plant in Texas. We were also awarded with a major solar energy contract by Hawaiian Electric Company in January 2019. Under the PPA (Power Purchase Agreement), we were awarded with a contract for a 489MW solar power plant and a 504MWh ESS. Starting from 2019, we have been operating a 134MW solar power plant and a 4MWh ESS.
And since 2022, a 364MW solar power plant has been in operation. In addition to the solar power generation business, we entered the energy retail market in July 2019 in the city of Houston. Since our launch, we accrued 18,000 customers as of the end of 2019, and reached 30,000 customers by June 2022. Through our energy retail brand, Chariot Energy, we are able to differentiate ourselves with an omni-channel based customer service offering, as well as transparent and affordable service plans.
Australia
Hanwha Energy Retail Australia Pty. Ltd. (trading as Nectr) publicly launched its electricity retail business on February 2020 with the mission of building Australia??s first ??Digital Gentailer?? that will deliver brilliantly simple solutions for our customers for a better life. Nectr will achieve this by building the business from ground up that is purpose built for the new energy market and delivers competitive advantage and differentiation across the energy value chain. The Australian energy market is going through a period of change unlike any other its recent history. New technologies, rapidly changing policy frameworks, rising energy costs, and ongoing levels of customer frustration all combining to drive the emergence of new energy business models. Nectr has an exciting opportunity to take advantage of the disruption that is occurring in the Australian energy market and establish itself as a leading player in the new energy environment. Nectr aims to fundamentally change the competitive landscape and by doing so restore the trust between customer and energy provider that has been eroded over time.
Europe
In addition to the solar energy generation, we are also launching an energy retail business to expand our solar energy value chain in Spain. In September 2019, we established a subsidiary for our retail business in Madrid, Spain. And in October 2020, we launched Imagina Energia??our official energy retail brand. Through Imagina Energia's businesses, we provide green, affordable and innovative products and services for B2B and B2C customers in Spain. Using our expertise in solar energy, we are also in pursuit of a retail business connected to distributed generation, such as rooftop solar energy. Electricity is generated by rooftop solar panels during the day and is drawn from the grid at night. These rooftop solar panels enable customers to self-consume renewable solar energy, saving electricity bills and being more eco-friendly.